Owner Financed Homes For sale in Florida
Bad Credit Florida Owner Financed Homes For Sale:
We make it possible for credit challenge buyers to become home owners by providing non-traditional alternative solutions and offering true owner financed homes for sale in Florida to buyers with bad or poor credit become home-owners regardless of their past history.
Our true owner finance homes for sale financing terms are normally sold to our credit challenge buyers for the entire length of the loan allowing you to either make regular schedule monthly payments for the entire term of the loan or if you decide sell for a profit. What it does not do like most other so call true owner financing is force you to have to refinance or get conventional financing at some point in the ear future.
Our Florida owner finance home-ownership made easy approval process is normally base on things like income, debit income ratio, and employment but never your credit or past history. OwnerFinancedHomesHQ.net owner financing program down-payment typically ranges between 5-20% depending on the home. On the other hand our Florida owner financed home-buyers program loan terms such as monthly payments, interest rate are all determine by the buyers application and their down-payment for any given home.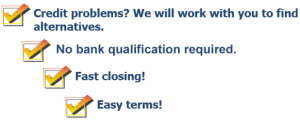 Benefits of Florida Owner Financing for Buyers with Bad Credit:
Fast Closing:

Unlike a conventional closing seller financed closing typically happen in as little as 14-30 days
No PMI: Private mortgage insurance is a requirement by banks for buyers with less than 20%. Its an additional $50-150 monthly fee add to the buyers mortgage payment.
No Loan Cost/Points: Mortgage brokers and lenders normally charge upto 5-7% points. Seller finance home loans don't require any such fees.
Tax & Interest Write-offs: As a homeowner you are able to write-off the taxes and interest paid for the year against your personal income when you file income tax.
Easy Qualification: Sellers offering owner financed homes for sale are typically less demanding about the buyers qualifications and more flexible than the average traditional lenders loan approval requirements.
Like any traditional home purchase there will be a formal closing with either a local title company or real estate attorney. At closing the buyer reviews and sign his/her closing documents, pays closing cost and title (ownership) is transfered via a newly created General Warranty Deed with the new buyers name(s) and recorded by the attorney or title company with the local county clerks office.
Next, as in any home sale the buyer 1st mortgage payment does not become due until 30 days after closing. But, something that is all too often over-looked by new owner finance home buyers is sending their monthly mortgage payments directly to the seller.
At OwnerFinancedHomesHQ.net all buyers pay through a 3rd party loan servicing company to protect the buyer and seller. We found that it gives everyone a peace of mind knowing that the any underlying loan gets paid 1st and allows the buyer to track their payment history. In addition, the buyer receives a detail 1099 statement at the end of the year outlining taxes and interest paid for the year for their taxes. We are proud to be Florida's #1 Source of true Owner Financed Homes For Sale in Florida. Give us a call (8500 290-2372 & let us help you live the American dream of home-ownership. Stop wasting MONEY renting!
More information on Owner Financed Homes In Florida